Buying and Selling Gold
Gold Buying Guide
Are you considering the sale of a diamond, estate jewellery, watches, gold, silver or platinum bullion or coins?
Jewellery Plus offers immediate cash payment.
There are many reasons why it might be necessary or desirable to sell some of your Jewellery, Diamonds, Coins, Paper Money, Bullion, Watches, or other valuable items and that's your business. Our business is offering you an honest appraisal, a fair price, and a confidential, discrete transaction handled in a timely and professional fashion. We conduct transactions with individuals, bank trust departments, government entities, and estate attorneys…..for very large estates, we will travel to most locations. Our reputation, ethics, and business practices are governed by one of the most reputable institutions available: the Canadian Jewellers Association.
We offer immediate payment in cash or check, enabling you to almost instantaneously turn your jewellery into funds on hand. If you want to trade it for something in our inventory you will be offered even more.
Jewellery Plus is Prince Edward Island's most experienced Diamond Buyers, Watch Buyers, Jewellery Buyers, and Estate Buyers. There is never any cost or obligation on your part for our consultation. If you wish to sell diamonds, sell fine watches, sell gold bullion, or sell jewelry, contact the leading expert buyers in Prince Edward Island…Jewellery Plus.
Jewellery Plus assures that you will receive a fair price for the jewelry you sell. Our staff includes certified gemologists and Graduate jewelers who can give you an expert assessment of your jewelry's value. We have an in-store gemological laboratory that enables us to make a precise study of your pieces. We have computerized access to a worldwide network of jewelers, diamond buyers, antique dealers, collectors and auction houses, enabling us to keep a close eye on prices and market conditions.
We offer complete appraisal services, and are happy to offer a verbal opinion on the value of jewelry at no cost. Written appraisals for insurance or sales value are available at a cost of $75 per hour, with a $55 minimum charge. While walk-ins are welcome, we do appreciate a call if you're going to need a written appraisal or if you have several pieces you'd like us to price. Our experts will not give "while you wait" written appraisals due to liability issues.
We can provide you with cash or a guaranteed check for your valuables as soon as we've agreed upon a price.
We know that the sale of a treasured piece can be an emotional experience, and we understand. We guarantee our discretion and sensitivity in each transaction. If you prefer, we can even arrange to visit you at your home, office or bank to assist you with the sale of your pieces
We buy diamonds, we buy watches, we buy jewellery, we buy coins & bullion and will be happy to discuss what you wish to sell with no cost or obligation on your part.
We Buy Class Rings, Broken Chains, Bracelets, Necklaces, Single Earrings, Outdated items, Coins, Watches, Brooches, Dental Gold, Wedding Bands, Silver Dishes and Cutlery
Every minute, the price of gold changes, and within the last few years, the price of gold risen astronomically compared to historical data. For years, gold held a steady price per ounce around $400, but today, it's well over $1,000 per ounce!


The chart below reflects the live price of gold at this very minute.

Please refresh the page to update the live price of gold in real time.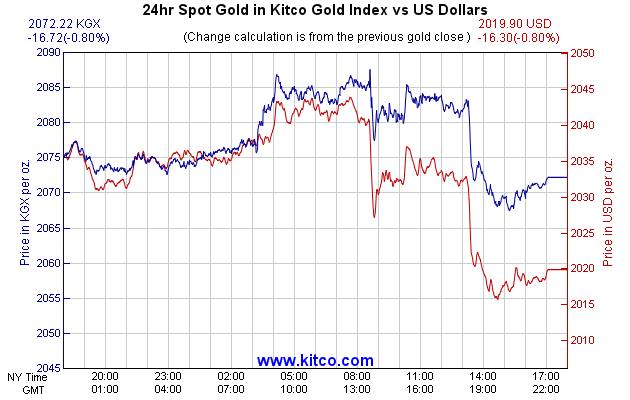 Source:www.kitco.com